Body Chain
At Dr. Training, we approach your body from many different angles. We have divided these angles into six large groups.
Your body will first begin to change when these groups are connected (chained) together. At Dr. Training, we call this 'Body Chain.' Your body will first begin to change when you connect your 'Rate of Synchronization' with the 'Body Chain.'.
1.Previous History 2.Human body composition 3.Nutrition
4.Body Alignment 5.Range of Motion 6.Deoxyribonucleic Acid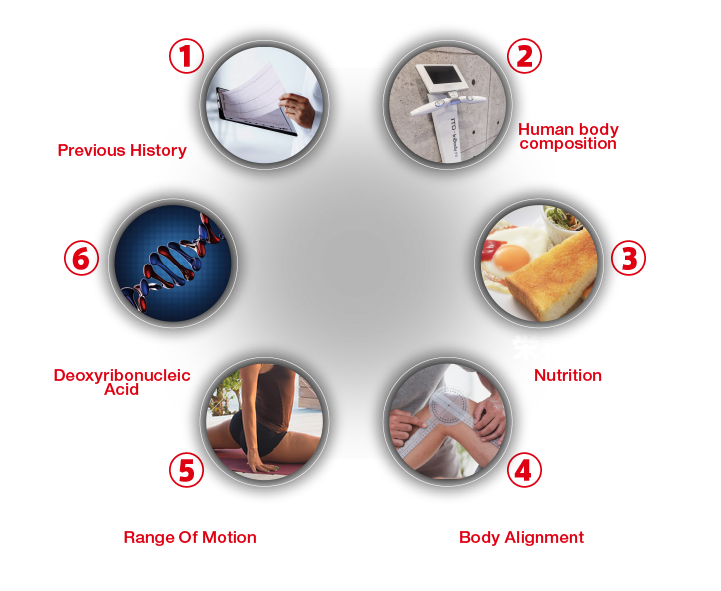 ①Previous Medical & Training History
By understanding your past injuries, internal medical diseases, and your present activity levels, we can conduct a more sensitive approach towards your body.
②Human Body Composition
In order for us to provide you with the most suitable training, we have to measure not only your weight, but also your fat and muscle volumes, and your basal metabolic rate so that we can make a comprehensive judgment on your body's condition.
③Nutrition Management
Our registered dietitians will not just simply give you meal restrictions, they will give you detailed advice about chrono-nutrition (when to eat), digestion and absorption, and supplements all in the form of a bodybuilding plan that will not make you rebound.
④Body Alignment
We will check things such as the bad habits in your body's movements, the unbalance between the upper & lower half of your body and your body's lateral difference. We will then approach the fundamental causes of your body's problems, such as back pain and stiff shoulders.
⑤Flexibility (Range of Motion)
It is possible to prevent injuries and perform efficient training by improving, not only your muscle flexibility but also your range of motion for things such as your joints.
⑥DNA
By understanding your gene levels, we can decide on efficient nutrition management and training methods that can make you a leading edge body.